---
FRI 27 March 2020
Arno Carstens releases his brand-new singles and music videos for "Midnight Screams" and "Erupt"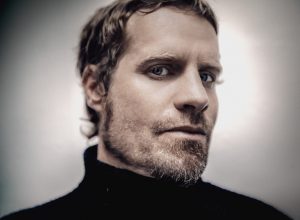 "We are perfect imperfections of human emotion."  Arno Carstens 2020
South African singer-songwriter, Arno Carstens releases his two new singles, "Midnight Screams" and "Erupt" today, Friday 27 March. Fans can find both singles on their favourite digital platform now or go to https://linktr.ee/arnocarstensmusic
Releasing brand new music on the first day of a 21-day national lockdown due to the coronavirus pandemic, Arno reaches out to his fans with the following message:
"As we find ourselves in a state of surreal melancholy, we need to remember the positive and focus on the small victories which might uplift us in our time of need.  Although these songs were written long before the outbreak of CoVid-19, I still hope that they will find you in the best of spirits. I am hopeful that in a small way my music offerings can bring some kind of relief and escape from these uncharted circumstances that we find ourselves in."
Arno streamed a special live concert on Saturday 21 March via YouTube and the response from fans and the industry was overwhelming.
Arno will also be streaming to fans from his Facebook page periodically, to provide entertainment while we're all stuck at home.  You can follow Arno's page here for updates on when to tune in https://www.facebook.com/arnocarstensmusic/
"Midnight Screams" and "Erupt" are two singles that will form part of a 10-part collage of music that Arno will continue to release over the course of 2020. The previous releases of 2019, which include the tracks Lift my Spirit, Empire of the Night (a finalist in the globally acclaimed 2019 International Songwriting Competition, out of the USA), Don't Let it Be and Out of the Blue, will be included in this eclectic collage of music.
Although not a studio album in the traditional sense, Arno's intention is to present a complete body of work before the end of the year, with the understanding that sometimes "the whole is greater than the sum of its parts". The bigger picture connects Arno's love of energized alt pop production on one side of the spectrum, with his ability to craft anthemic acoustic driven ballads on the other.
"Midnight Screams" and "Erupt" showcase Arno at his acoustic best. 
"The title track, 'Midnight Screams', is an uplifting ode to lovers, that speaks of how just one night of pleasure, can change the trajectory of a person's life forever."
Midnight screams of delight
My obsession with the party is in full swing
You see I think the world's oraait
My obsession with you angel is overflowing
The 2nd single, "Erupt", is as unexpected as you can get from Arno.
"I like the raw sound of demos and have always thought we lose some of the magic when songs are over produced.  With 'Erupt', I think we've managed to capture a raw moment in time, without all the wizardry that overcomplicates things.  I think I've discovered a new voice in a way."
Are you ready to erupt
Because I am your flavour
Cause I've been channelling a good vibe
Ready to erupt
I hear you, I hear you, oh lord
Who's that bag of bones shaking in the wind
Sweet island breeze from the chaos of Hades
We escape the scene on a moonlit kiss dream
And shoulder to shoulder we discover
Are you ready to erupt
"Midnight Screams (as an eventual complete body of work) will touch on the nature of God's unpredictability, the heartbreak, the loss, the conquering spirt, and the terrifying confrontational moments of realization that force change. My musical journey and specifically what I am presenting here, is as always, personal; but I'm stretching it even further than ever before.  I'm embracing the new and the unexplored."
Ends.
ARNO CARSTENS BIO 2020
Arno Carstens is an award-winning singer-songwriter and fine-artist based in Cape Town, South Africa.
During his career as the lead singer of The Springbok Nude Girls, and subsequently as a bilingual solo artist; with recordings in both English and Afrikaans; Arno has released multiple albums, spawned a string of successful singles & received numerous awards including Best Rock Album, Best Alternative Album & Song of the Year.
Arno has headlined every major South African music festival, performed at the Isle of Wight Festival, Glastonbury, V Festival, T in the Park & Hard Rock Calling and toured with The Rolling Stones, U2, REM, INXS, Bryan Ferry, Simple Minds, Ultravox, Paulo Nutini and The Police.  Arno also features as lead vocalist and co-writer on three tracks on the Mike + The Mechanics 2011 album The Road.
He's been called "The godfather of South African Rock" by Mail & Guardian & Sunday Times have hailed him as "One of the most prolific songwriters & performers of our time"
Arno is also a celebrated fine artist who paints in oils and acrylic on canvas and draws with charcoal on paper.  He has worked with Lionel Smith, Beezy Bailey and the late Bared de Wet.  His work can be viewed and purchased online at www.arnocarstensfineart.com or  in person via appointment in Simonstown, Cape Town at his home based studio and gallery.
---